Introduction
Are you looking for a new way to repair or replace the concrete of your building? If so, then micro concrete might be the perfect solution.
Micro concrete is an increasingly popular form of construction and maintenance material that provides builders with unparalleled strength, flexibility, and resistance to wear.
Not only can it make repairs easier than ever before with quicker curing times, but it also has incredible aesthetic advantages that make it appealing when updating older structures or adding details to new ones.
Micro concrete and micro cement – two names for the same design trend that's quickly gaining fans thanks to its awesome capabilities.
Unlike traditional materials, this stylish alternative promises concrete visuals in places they wouldn't normally fit while slashing costs at the same time.
Ready to rock your space with style? Whether you're already a design pro or just looking for ways to give any room an extra edge, check out these five tips and tricks that'll help you take wall coverings from good to great!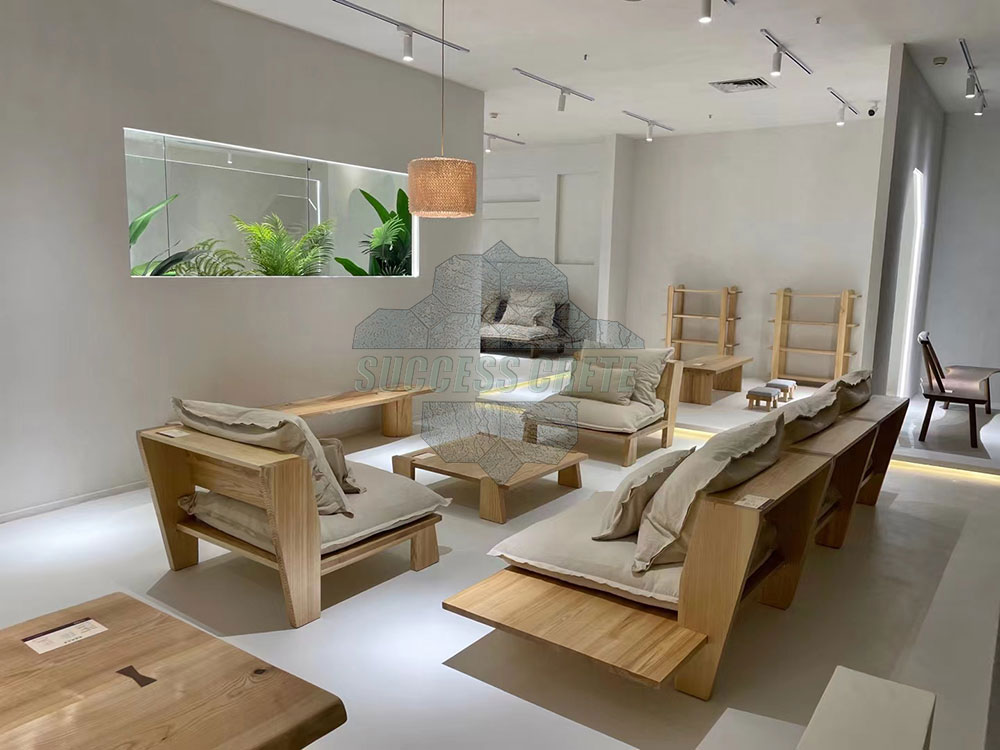 The blog will include the following content:
1. What is micro concrete?
2. Why is microcement concrete floor used?
3. What are the main advantages of micro concrete?
5. FAQ: Where is micro concrete used? Does micro concrete crack? What can you put microcement concrete on?
What is micro concrete?
If you're looking for a money-saving alternative to concrete that still gives your space the same look and feel, micro-concrete is an option worth considering!
It's lightweight yet strong enough to last over time. Not only will it save you some cash – but also give any surface from tile to wood a beautiful finish.
Transform your space with the chic and stylish look of concrete at a fraction of the cost. Micro Concrete is an ultra-thin, 2 to 3-mm cement-based coating perfect for tiling or wood surfaces – lightweight yet durable enough to last!
Microcrete is a top pick for bathrooms and kitchens – it's slip-resistant, mold-free, and best of all provides an ultra-clean surface that won't stain.
It'll not only keep your kitchen looking pristine but will also work great outdoors, so you can have peace of mind whether cooking or outside enjoying the sunshine!
It is also a non-shrinking and flowable material that requires only water to produce high-strength concrete that can achieve maximum strength in less time.
It is non-moldable, non-staining, hygienic, waterproof, and non-slip, and is therefore widely used in bathrooms, kitchens, floors, etc.
Compared to real concrete, micro-concrete is an excellent choice for repairing cracks in concrete walls.
Make your next project a breeze! With Micro Concrete's pre-packaged mix, you can easily lay the perfect finish without needing any special tools.
Plus, no additional mixing is necessary – so not only do you save time but also get consistent surface quality every single time.
More importantly, with the help of this product, you can have an effortlessly flawless concrete finish in just about any environment.
Perfect for tight spaces and those without a lot of experience working with concrete! Human error is also no longer part of the equation- giving you complete peace of mind that it's done right every time.
Micro Concrete is the way to go if you want a fast fix. It hardens in just one day, so your redecorating project can be taken care of quickly with minimal disruption! You also get the benefit of a consistent final surface since its rapid drying means it achieves an even finish every time.
Completing a project can be tough and time-consuming, but with micro-concrete, it's super simple! This amazing material dries quickly meaning you won't have to wait around for days on end – in fact, you start using your item the next day.
Handling and placing micro concrete is easy! Unlike regular concrete which needs heavy machinery or skilled professionals to get the job done right, pre-packaged mixes make it so that you don't need any extra help. Plus there's no risk of human error when building with this stuff – making it the perfect material for projects where a smooth finish is required in any environment.
No sweat for renovations – skip the mini excavator and dig no deeper than 4-6 inches; that's all it takes to get your micro concrete in place. It makes total sense when you're looking at revamping a house, saving time and energy while easily accessing walls!
Micro-concrete is a fantastic way to reduce your water and machinery costs – it only requires 1/8 of the amount of water used for normal concrete and no heavy equipment!
Plus when dry, micro-concrete retains its waterproof strength so you don't have to worry about dampness or leakage.
No wonder more people are turning towards this innovative material every day.
What are the main advantages of micro concrete?
Micro concrete has many advantages over conventional concrete, they are described below:
In the case of micro-concrete, it does not require compaction due to its fluidity and therefore does not require the use of heavy machinery.
Micro Concrete bonds well to any surface and forms a strong layer immediately after application.
Micro concrete does not contain chlorides, making it safe and highly durable.
It does not shrink when micro concrete is applied, so there are no creases or cracks in the future.
Microcement concrete floor has low permeability, which means it can be used outdoors and in kitchens or bathrooms
Requires no additional additives and contains no chlorides, making it a safe and durable surface choice
Forms a good bond with almost any surface. It can be tinted.
Produces good strength once applied to the surface.
Excellent resistance to mold and mildew.

How to use micro concrete?
Whether you're renovating your apartment or furnishing an office, micro concrete has become the go-to solution for modern style.
Its seamless, durable finish is perfect for everything from kitchen surfaces to shelving.
Microcrete is a game-changing concrete that doesn't require tricky techniques or massive machinery to install. To unlock its full potential and get the ultimate finish, keep those best practices in mind when working with it!
Surface Preparation
To get the best results with micro concrete, you need to make sure your surface is squeaky clean before applying it.
That means scrubbing any dust and debris away and giving anything metal or exposed an extra layer of protection for good measure!
Mix
When it comes to micro-concrete, mixing is the name of the game. For smaller quantities, you can stir by hand but if you're dealing with a larger batch then pop your ingredients into a container and bust out that spoon!
The standard ratio for water to concrete is 1:8 – just make sure not to pour in all at once instead slowly introduce them while stirring away.
Application
Get your hands working with this project – mix up micro-concrete and pour it onto the surface while it's still fresh. Then, take a clean tool to level out the mixture before giving it some time in the sun (or shade!) so that it can properly dry.
Last step
After applying micro concrete, the last step is to make sure that it has been given enough time to dry and settle properly for maximum durability.
It's important to work with micro concrete in a well-ventilated area and to always wear a protective mask when working with particles of micro concrete for safety purposes.
Once the micro concrete has been allowed to settle, the improvements become visible and the surface is ready for use. Enjoy your newly improved space!
Cautions
After applying micro concrete on a floor, wall, or other surfaces to have a smooth, elegant look it is important not to let any dirt accumulate on the micro concrete surface.
Therefore, it's necessary to thoroughly clean and dust bust the micro concrete area often.
To ensure the micro concrete remains looking perfect for years to come, making sure any water stains are wiped down with a cloth and mild soap is essential—by sealing micro concrete with a protective sealant you're investing in its long-term well-being and helping it remain as vibrant as possible.

Frequently asked questions
Where is micro concrete used?
Due to its high durability, the fine concrete can be used for outdoor and indoor surfaces, such as foyers, hotels, shopping centers, open-air squares, museums, office centers, garages, and general interior surfaces. Furthermore, it is a waterproof material and therefore suitable for splash-proof panels in bathrooms and kitchens.
Does micro concrete crack?
Microcement is very durable and resistant
Unlike other coatings, microcement stands out as a very durable material that does not crack. Its properties are not lost with the passage of time, but it continues to be a coating that is highly resistant to traffic, knocks, scratches, and sunlight, among many others.
What can you put microcement concrete on?
The microcement can be used on new floors or on existing substrates – on tiles, terrazzo, OSB boards, cement boards, etc. Despite the thin layer, the system is extremely durable, abrasion resistant, and easy to maintain.
How long does microcement concrete?
6 months
The shelf life of microcement is 6 months (products stored in a closed package).
How do you mix micro cement?
Bicomponent Microcement mix
Pour the measured amount into a container large enough to receive the two components (liquid and solid) and add the pigment corresponding to the amount of Microcement, mixing until a uniform color is achieved.

Conclusion
Why are the uses of microcement so diverse? Because the decorative solutions for microcement are endless.
From micro-cement stairs or micro-cement swimming pools to furniture covered with micro-cement.
Although excellent uses for microcement are in kitchens, bathrooms, and outdoor spaces such as patios, in floors, and walls.
No matter what surface is covered with microcement, at successcrete, we care about the end result.
Because of this, we want the best, most versatile, and quality products that are durable and adapted to market needs, and we strike a balance between hardness and flexibility.